What to Send as Gifts to UAE on Birthday occasions
Special occasions such as birthdays, anniversaries, etc., are marked by a magnitude of celebration and happiness. This celebration is a little different than a festival. This is because on these occasions the center of attraction is only one or two people, not the entire nation. So, these days are meant to make these people feel special and loved. Apart from this, there's another thing that everybody loves these days – cake! Send cake as Gifts to UAE from your own flower shop in UAE.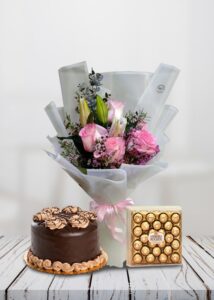 Combo Gift Delivery to UAE
A birthday celebration without a cake, it not happening nowadays. Who does not love cake? But there is something that makes the cake look even better – make a cake and flower combo and see what impression you leave on your loved one. This combo is the best gift you can give someone on their birthday or anniversary because you will reach that person's heart through their stomach and eyes. The stomach will know the fulfillment from the cake, whereas the eyes will behold the beauty of the flowers. When we talk about what is the best gifts to UAE combo for a birthday, believe us that it is this. In our current lifestyle, we consider flowers, cakes, and chocolates for any birthday or anniversary gift in UAE. So, hurry and order flowers cake for someone you love and cherish from UAE Flower and make them feel special and appreciated on their important day.
Midnight Gift to UAE
Many people ask how to Send Gifts to UAE. Well, it's pretty simple. All you have to do is visit uaefloweronline.com and choose from the various options of cakes, chocolates, and bouquets we have for you on the website. You can choose a combo product for your best choice. After choosing, enter your details and make the payment to order flowers cake. The interface is meant to make your task as easy and accommodating as possible and you will not encounter any problem while placing the order. The process if proven to be quite hassle-free and accessible. Even the cost of the cake and the bouquet will not be soaring skies. They are affordable and pocket-friendly. If you want to know what will be the minimum cost of ordering this combo, it is AED 179/- and you may get a better deal if there's a special discount. UAE Flower is the most efficient website for sending Gifts to UAE. For UAE Gift delivery, we provide same-day gift delivery up to 10PM. Midnight gift delivery to UAE not an issue nowadays. Customers can choose midnight surprise delivery to UAE.
Gift for Birthday
Which flowers and cake should I buy and send as Gifts to UAE? This is really an important question. While making a choice of this kind, you must think about the person you are ordering the cake and bouquet for. Because we have an extensive kind of cakes and flowers combo, all your wishes will be fulfilled and delivered on time while retaining the freshness of both the gifts to UAE. If you are looking for the best gift combo for your birthday, then ordering online through uaefloweronline.com is your best choice. We have pledged ourselves for this beautiful cause of spreading happiness through your orders, and we intend to keep doing it by birthday flower cake delivery, in a combo, for the perfect occasion.