Is this is Your First Valentines Day
When you are in a new relationship, the first days of everything are extremely important, like your first kiss, your first anniversary and of course the first Valentine's Day! These 'first' events are memorable milestones that you and your partner will remember and cherish forever. And now you can make the day more special by sending Valentines Day Flowers to UAE.
There are several ways in which you can celebrate Valentine's Day. Valentine's Day Gifts to UAE are the most sought after ways to celebrate the day. Pay attention to your partner's needs and try to find out what is it they really desire at the moment. Nothing beats the joy of getting as a gift, something that has been on your wish list! And if you are unsure of what your partner wants, fret not, because you can give them cash coupons of their favorite stores which are redeemable for their desired products. This way your partner can choose a gift of their choice, thereby saving you the hassle of stressing over the 'perfect' gift.
Another great and timeless way to express your love is to send Valentines Day Flowers Delivery in UAE. Flowers have always been considered the language of love and what's more, one can never go wrong with fresh blooming flowers. So take your pick from beautiful carnations, bright gerberas, attractive violets, fancy orchids, sweet daisies, lilies, etc. The red rose of course remains the top favorites. You may get a bouquet delivered to your partner's residence/work place or carry it yourself to see the priceless smile on their face. Do not forget to add a personalized message with the bouquet to make it even more special.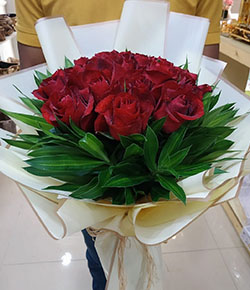 While you may send Valentines Day Flowers to UAE, spending time with your partner is definitely mandatory on Valentine's Day as the joy of sharing special moments together is unmatched by gifts or flowers. If possible, try to take the entire day off and do things both of you like to do like spa massages, etc., or plan a short day trip nearby to get away from the stress and monotony of everyday life. While it may not be feasible for everyone to take an entire day off, you can make the day memorable by spending the evening together. Play soulful music, you can choose your favourite singer for this day. Organize a candle-lit dinner of just the two of you. Pick out your partners favorite cuisine/restaurant and make table reservations. You can also ask them to prepare a personalized cake or dessert to add that unique touch. Alternatively, you can personalize the entire experience by cooking at home, laying a table with your finest cutlery, some wine, candles and flowers. Your partner will definitely appreciate all the effort for Valentines Day Gifts through UAE Flower !
Valentines Day is a special day and one must not spare any efforts to go all out and make it enjoyable and romantic for your loving partner. After all sweet memories of the first special Valentines Day gifts to UAE will be cherished forever.
This blog is written by UAE Flower, a leading online florist in UAE with more than 10 years of experience of delivering valentine's day gifts, valentines day flowers, anniversary and marriage gifts to UAE etc to various cities in UAE like Dubai, Sharjah, Abu Dhabi, Ajman etc.